2023 Roofing Industry Trends: A Guide for Homeowners and Professionals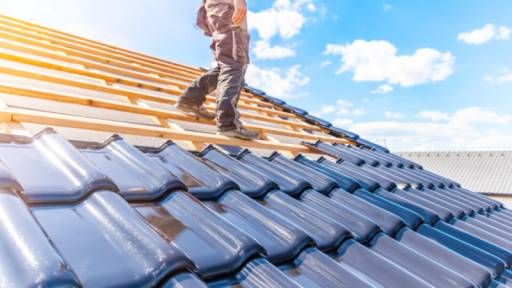 Roofing trends are constantly evolving, and homeowners have more options than ever when it comes to choosing the perfect roof for their home. In this article, we'll explore the top 10 roofing trends provided by professional roofers for 2023 and beyond. Be on the look out for signs that you need a new roof.
1. Sustainable and eco-friendly roofing materials
As homeowners become more aware of their impact on the environment, there has been an increased demand for sustainable and eco-friendly roofing materials. Options like metal roofs, recycled shingles, and solar panels are becoming more popular as homeowners seek ways to make their homes more environmentally friendly.
2. Energy-efficient roofs
Another trend in roofing is energy efficiency. Energy-efficient roofs are designed to reflect more sunlight and absorb less heat, which can help reduce the amount of energy needed to cool the home. Cool roofs, also known as reflective roofs, are coated with reflective substances and are available in a variety of materials, including coatings, tiles, and metal.
3. Asphalt shingles with more visual interest
While asphalt shingles have always been a popular roofing material due to their affordability and durability, they are often criticized for their lack of visual interest and monotony. To address this, manufacturers are now offering shingles in a variety of colors, shapes, and styles, providing homeowners with more options to enhance the aesthetic appeal of their home's exterior.
4. Standing seam metal roofs
One of the most popular roofing trends in recent years has been standing seam metal roofs. These roofs are made up of panels that are secured together with raised seams, providing a smooth and streamlined appearance. As an added bonus, metal roofs are also energy efficient and can last up to 50 years or more.
5. Cool roof coatings
Cool roof coatings are becoming increasingly popular as more homeowners are looking for ways to improve their home's energy efficiency. These coatings are designed to reflect the sun's heat, which helps to reduce the amount of heat absorbed by the roofing material. Cool roof coatings are available in a variety of colors and can be applied to a variety of different roofing materials.
6. Lighter and brighter colors
For many years, darker roofing colors have been popular among homeowners. However, in recent years, lighter and brighter roofing colors have gained momentum. Lighter roofing colors can help reflect sunlight back into the atmosphere, reducing the amount of heat that is absorbed into the home.
7. Synthetic roofing materials
Synthetic roofing materials are another trend in roofing that homeowners are gravitating towards. These materials include synthetic slate, cedar shake, and tile, which are available in a wide range of colors and styles. Synthetic materials are more durable than many traditional materials and require less maintenance.
8. Advanced roofing technology
Advances in technology have made it possible to create more durable and energy-efficient roofing materials. Solar shingles, wireless sensors, and weather tracking systems are just a few examples of the types of advanced technology that are being integrated into roofing systems.
9. Designer roofing materials
Designer roofing materials are another trend in roofing that offers homeowners a variety of options to enhance the curb appeal of their homes. Designer shingles are created to resemble traditional natural materials like slate or cedar shake, but with added color and detail. These shingles can give a home a unique and glamorous look.
10. Smart roofing technology
Smart roofing technology includes sensors that track weather patterns, the amount of sunlight, and other environmental factors that can impact the performance of a roof. These sensors can help homeowners understand how their roof is performing and provide insights into ways to improve energy efficiency and durability.
The world of roofing is rapidly changing, with an increasing focus on sustainability, energy efficiency, and durability. Homeowners have a wide range of options to choose from when it comes to roofing materials, colors, and styles.
When you use a TrustDALE certified professional, you're always protected by Dale's trademark $10,000 Make It Right Guarantee. Whether you're looking for traditional asphalt shingles, eco-friendly materials, or advanced technology, the top 10 roofing trends showcased in this article provide a great starting point to help you make the best decision for your home.