Dale Investigates: A Homeland Security Risk?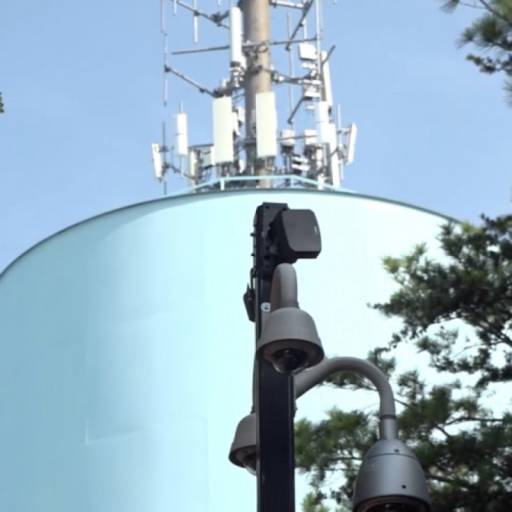 Most of us don't think that often about protecting our nation from a terrorist attack. So what would you do if the Department of Homeland Security showed up at your door and asked you help prevent a terrorist attack?
When DHS Asks You to Help
This is exactly what happened to Sue Haines. One day, a representative from the Department of Homeland Security showed up unannounced at her front door. The representative told her that she had a very important role to play in the safety of the Atlanta water supply.
Sue's house backs up onto a tall chain-link security fence topped with several layers of barbed wire. The fence protects two large water towers that are vital to Atlanta's water supply. The representative from the Department of Homeland security informed Sue that these water towers and this fence were critical infrastructure. Should she notice any damage to this fence, she should contact the Department of Homeland Security immediately so that it could be repaired.
Taking Action
Sue took her responsibility seriously. So when a strong storm knocked down a tree right onto the chain-link fence, she didn't hesitate to make the call. After all, with the fence down it seemed that any terrorist or group of terrorists could easily access this vital water source.
That's when everything came to a grinding halt. Sue called the Atlanta Watershed and the Department of Homeland Security, but no one wanted to take responsibility for the fence. For six whole weeks, Sue made calls and sent emails to different government agencies, try to get someone to take her seriously. But no one seemed to care.
Dale Investigates
When no one would respond to Sue's numerous requests to get the fence fixed, she called TrustDALE. Initially, we ran into a lot of the same bureaucratic runaround as Sue. Eventually, we did reach someone with the City of Atlanta Watershed.
The City of Atlanta Watershed informed us that the fence that had been compromised in a storm almost three months earlier was only an outer fence. There was, in fact, a second inner fence that was the point of protection. That inner fence, they informed us, was checked by Atlanta Watershed security personnel twice a day and had not been compromised. The site is also monitored with security cameras and a remote sensing device, ensuring an added level of security. They reassured us that the inner fence had never been breached and the safety of the water supply was never compromised.
Fixing the Fence
Despite the reassurance from the City of Atlanta Watershed, Sue still wanted to make sure that the fence she had been asked to monitor was repaired. It was obviously there for a reason. With some added investigative work, we eventually found the right person with the City of Atlanta to fix the fence. They came to Sue's home and fixed the crushed fence. They also pointed out several other repairs they planned to make.
TrustDALE is grateful for patriots and concerned citizens like Sue Haines who take the security of their country and community seriously. Sue did the right thing, and it's unfortunate that it took so long to get the government's attention.
If we've learned anything from this, it is that working with the government is not always easy, even when it is in the government's interest. We're also glad we could help to resolve this.
If you have a problem that isn't being addressed, with a business or the local government, contact us at TrustDALE. We're here to protect the consumer and our fellow citizens.