How to Stay Safe When Using Craigslist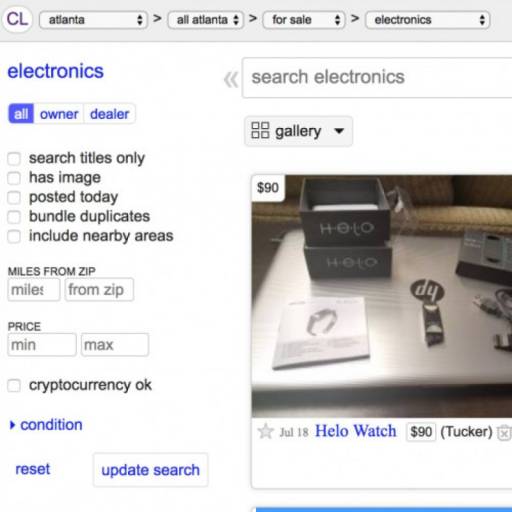 Craigslist has been the go-to site for buying and selling almost everything for almost as long as the internet has been around. It's a free and open market, which means it's a great place to do business, but is also a breeding ground for scammers. Here are some tips to stay safe on Craigslist.
Learn to Recognize a Scam
Craigslist has been around for a long time and so have the scams. Because scammers have been using craigslist for so long, it is easy to recognize some of the well-worn signs of a scam.
Here are some common types of Craigslist scams:
Be wary of a home, used vehicle, or other big-ticket items that don't require a credit check. If it looks too good to be true, it probably is. This is often just a way to get your credit card information. It could also be a trick to put you into some serious high-interest debt.
Stay away from wire transfers. It's often just a way to get your money without giving you anything in return. It can also be a way to steal your bank information.
Some posters will post an item for sale that they don't actually have. Be on the lookout for generic product photos. You could end up paying for an item that doesn't exist.
If you see multiple posts for the same item (like dozens or hundreds of posts) that should be a red flag. It's a way for scammers to cast a wide net looking for victims. Don't be a victim.
If someone requests that you use PayPal or another web-based payment system and then sends you a link to sign up, be very careful. This could be a phishing scam, which is just an attempt to get you to click on a link and give up private information. Even if a site looks legitimate, if you followed a link provided by the seller it could be an elaborate ruse.
If someone wants you to buy something, or even wants to buy something from you, sight unseen, be very suspicious. Either they are stealing your money if you are buying from them, or they are stealing your identity if they are buying from you.
Photos Can Help Identify a Scam
If the post includes a generic photo, like one from a retailer's website, that is almost certainly a scam. The seller probably does not even own the product. But even if you see a picture that looks real, it could be a picture stolen from another website. Thankfully, there's an easy way to check for a stolen image. Just right-click on the image and select "Search Google for Image". This will bring up a search that will show you anywhere that image is being used on the internet. If the image shows up on any website other than the listing you are looking at, it's probably a fake. The poster just took the image from that other website to make it look like they really have the item. One way to determine that a photo is real is to ask the seller for a photo of the item next to a newspaper with the current date.
Always Meet in Public
Just like a first date, when you meet someone to buy or sell something on Craigslist, you should always be in a public place. You are, after all, meeting a total stranger. Make sure that you are somewhere that is public, well lit, and heavily trafficked. Never go to a seller's home or invite a seller into your home if you haven't met them first. If you need to go to their car to look at an item, make sure you are in a well-lit parking lot that's full of people coming and going.
Did you know that many police stations offer their parking lots as safe spaces for online transactions? Choosing a police station parking lot will discourage any criminals from trying to scam you at the point of purchase, or perpetrating any violence against you. In some cases, police stations may even allow you to make a transaction inside the station, surrounded by security cameras and police officers.
If meeting in a third-party location is impractical, such as when you are purchasing a large item like furniture, you can still take safety precautions. There are services that will go to the pickup location to get your items for you. If you don't want to do that, make sure to at least bring a friend with you. Never go to a seller's home alone. In addition to bringing a friend, you can also meet a seller in a public place first. If you get a bad feeling about the person, end the transaction right there. If you are selling a large item, suggest using a delivery service. Don't allow a stranger into your home, or even give them your address, if you can help it.
Inspect an Item Before You Buy
If you are buying a product that "works", such as technology like phones and computers, make sure you are getting a genuine, functional item. Ask lots of questions. A quick google search can help you determine common problems with the item in question. Just search "common problems with [name of item]". Ask about those problems, and make sure the seller can answer.
When you go to pick up the item, ask to open up the box and inspect the item. Even if a box is shrink wrapped, it could be a fake. In fact, a common scam is to buy a "new" item wrapped in plastic only to find out when you get home that it was just a weighted box. So open up the box, turn the item on, and be sure it works like it's supposed to.
Never buy anything without seeing the item first (not just the box).
Buy and Sell in Cash
It may seem counterintuitive, but cash is actually the best way to buy and sell items on Craigslist. That's because handing over credit card or bank information gives a seller the opportunity to steal your information. If you are selling an item, receiving cash ensures that the money is there and you are not getting a stolen credit card or bounced check.
Don't Give Out Personal Information
If you are listing an item for sale, Craigslist will provide you with a way for people to contact you. Use their link. Never give out your personal email or phone number. The same is true of your address.
Did you know that many photos taken on a cell phone can store the location where the image was taken?
That's called geotagging and is a common feature on iPhones and some Androids. You can remove that information with online services like deGeo.
Trust Your Gut
Craigslist is ultimately about strangers meeting strangers to buy and sell. So every transaction requires the same safety precautions you would use in any transaction with a stranger. If something feels off, don't proceed. If something seems too good to be true, it probably is.
Here at TrustDALE we have seen far too many people scammed on Craigslist. So follow these tips and stay safe. Happy buying and selling!