There's No Time Like the Present to Upgrade Your Basement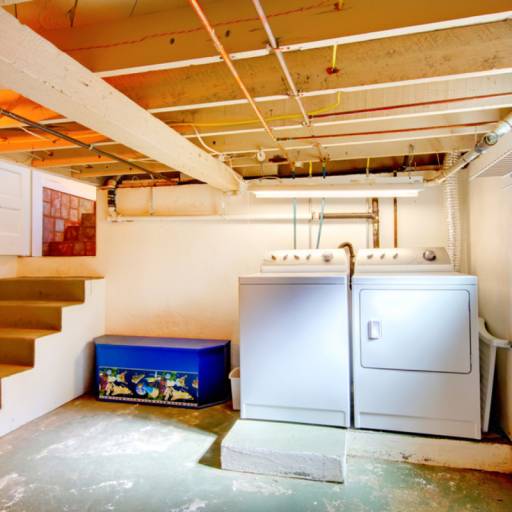 There's no time like the present to start planning your basement remodel. Whether you're looking for more living space, a home office, or a place to entertain guests, there are plenty of great ideas to choose from.
Basement remodels can be a great way to add value to your home, and they don't have to be expensive either. Read on as we cover some of the most popular types of basement upgrades, as well as some tips on finding the right remodeling company and staying within your budget. Let's get started!
Ideas for Basement Remodels
Many homes in Georgia have basements, but not all are finished or modern. If you're not sure where to start with your project, it can help to figure out function first, and then design and budget. Here are several popular ideas for basement remodels to get you started:
Income Suite:
If you have extra space in your basement, why not rent it out? A basement income suite can be a great way to bring in some extra money each month. To make this work, you'll need to add a bedroom, bathroom, and kitchenette. You may also want to consider adding a separate entrance so your tenants can come and go as they please.
You should also look into building code requirements, as some areas have specifications if you're going to rent the space out as a dwelling. For example, there may be a minimum ceiling height requirement. For a residence, you should also consider optimizing natural light by adding windows. This can be very attractive to potential renters and maximize your rental income.
Game Room:
Basements are the perfect place for game rooms! If you and your family and friends love playing video games or board games, this is the perfect opportunity to create your own dedicated space. You can also use this space to host game nights with friends and family.
Some things to consider for this would be layout depending on what sort of gaming equipment you have or will be adding. It's also helpful to have at least a half bathroom for a game room so you and your guests don't have to run upstairs to use the facilities.
Home Theater:
Basements are often dark and quiet, making them the perfect place for a home theater. You can set up a big screen TV, comfortable seating, and all your favorite movies and TV shows. This is also a great space to entertain guests.
For a home theater, consider lighting and layout. As we mentioned, its always helpful to have a restroom in a remodeled basement. For a home theater, natural light is less important, so you may be able to save some money and forgo adding lots of windows.
Guest Suite:
If you have out-of-town guests coming to visit, why not give them their own private suite in the basement? This way they'll have plenty of privacy and you won't have to worry about them taking over your entire house. Just make sure to add a comfortable bed, dresser, and nightstand.
For a guest suite, it's best to include a ¾ or full bath. This way your guests have a private space to bathe during their stay. If you're adding a bedroom to your basement remodel, you may also want to add a closet to the room to store extra bedding and items for your guests.
Office:
If you work from home or need a quiet place to study, setting up an office in your basement is a great idea. You can add a desk, chair, and all the other essentials to create a functional workspace.
To maximize your office space, consider adding built in storage, good lighting, and natural lighting, as well. If you will be taking meetings in your office, it can be helpful to have a dedicated entrance so clients don't have to walk through your home to access your office.
Home Gym:
If you're looking for a place to work out, a basement home gym is a great option. You can set up your favorite workout equipment and use this space to stay fit and healthy.
Home gyms don't necessary require a lot in terms of the space, as most of the equipment will be added after the remodel. However, you might want extra built-in storage for equipment like dumbbells, yoga mats, etc. It can also be helpful to have a bathroom with a shower to rinse off after workouts.
Cost Considerations
Before you start planning your basement remodel, it's important to consider the cost. Basement remodels can range in price depending on the size of your space and the type of upgrades you're interested in.
To get an accurate estimate, it's best to consult with a professional remodeling company. They will be able to give you an idea of how much your project will cost and help you stay within your budget.
Finding A Great Remodeling Company
When it comes to finding a great remodeling company, there are a few things you'll want to keep in mind. First, you'll want to make sure the company has experience with basement remodels. This way you can be confident they'll be able to handle your project from start to finish.
Second, you'll want to read online reviews and speak with past clients to get an idea of the quality of their work. Finally, you should always get a written estimate before hiring anyone for the job. This will help ensure there are no surprises down the road.
How It Works
Once you've found a reputable remodeling company, it's time to start planning your project. The first step is to schedule a consultation so the company can see your space, take measurements, and get an idea of what you're looking for. During this meeting or shortly thereafter, they will also be able to provide you with a written estimate.
Once you've agreed on a price, the company and their architect will meet with you to finalize designs. Their project manager will work with you to arrange a schedule and timeline and will keep you updated on progress and performance.
A reputable company will also establish several quality control checkpoints throughout the process. This way you know what's going on and will be in the loop in case of any delays or issues that pop up.
Finally, when the remodeling company has finished, there will be a final inspection for you with the project manager to make sure you are satisfied with the work.
Takeaways on Upgrading Your Basement
Upgrading your basement can be a great way to add value to your home and create extra living space. When planning your remodel, it's important to consider the cost and find a reputable remodeling company. With these tips in mind, you'll be well on your way to creating the perfect basement for your needs.
If you are ready to update and beautify your home's basement, a remodel is the way to go. And when you use a TrustDALE certified professional, you're always protected by Dale's trademark $10,000 Make-It-Right Guarantee. So start looking for a trusted basement remodel professional in your area today!