Try Pressure Washing For Sparkling Clean Sidewalks, Driveways, And Siding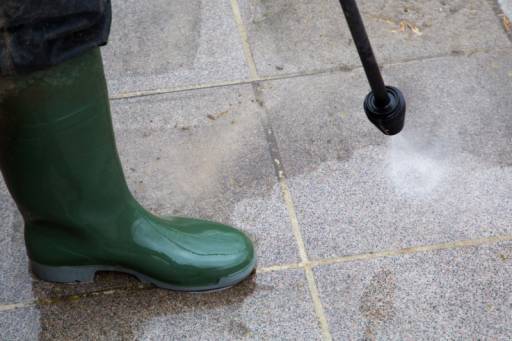 Are you looking for a way to clean your sidewalks, driveway, and siding without spending hours on the task? Try pressure washing! This method is fast, efficient, and can get your surfaces looking like new again. In this blog post, we will discuss the benefits of pressure washing and how to get started with this cleaning method.
Why Pressure Washing?
You may have heard of pressure washing before, even if you've never utilized the service. Pressure washing is a popular method for cleaning all sorts of surfaces, from driveways and sidewalks to siding and decks. This method is effective because it uses high-pressure water to remove dirt, debris, and build-up from various surfaces. Not only is this an efficient way to clean, but it can also save you time and money in the long run.
Pressure washing is a system that uses the natural cleaning power of water launched at a target surface at extremely high pressure and is best for harder surfaces like concrete, stone, and asphalt. Alternatively, soft washing incorporates the use of cleaning solutions and chemicals with low-pressure and no-pressure washing for spectacular results on malleable materials like shingles and tiles. Soft washing is especially useful for more delicate surfaces like roofs and windows, and some types of house washing.
What Can You Clean With Pressure Washing?
Pressure washing is a great way to clean all sorts of surfaces. It's especially good for sidewalks, driveways, and siding. Meanwhile, soft washing is a great option for roofs and windows. If you're looking for a quick and easy way to get your property looking its best, pressure washing is the solution you've been searching for!
Sidewalks
Concrete is a popular building material because of its strength, durability, and versatility. However, its porous surface allows oil, dirt, and natural organisms to take hold and leave ugly stains and discoloration. These tiny pores assist in preventing cracks and fissures caused by extreme heat and cold, but they also provide a place for dirt, grime, and organic growths to take hold.
If your walkways, pavers, pool decks, or sidewalks need some deep cleaning and restoration, contact a professional pressure washing team to restore them!
Roof
Professional roof cleaning helps eradicate harmful algae and bacteria. It also protects against rot-causing animal droppings and caustic organisms. All of these nuisances can damage your shingles, allow water to penetrate, and eat away at your rooftop, leading to costly repairs.
Roof cleaning is the smart way to avoid time-consuming and expensive roof replacements. However, high PSI (pounds per square inch) pressure washing, harmful chemicals, or careless workers can damage your roof. They can loosen shingles and remove protective granules from asphalt roofs. That's why it's important to hire an experienced company that uses techniques like soft washing, low-pressure washing, and even no-pressure washing.
The experts you hire to provide you with services like roof cleaning should be up-to-date with the various techniques used for successful results.
House
If your house is looking a little worse for the wear after the winter, power washing can certainly brighten things up. However, what may seem like a simple chore is best left to professionals. You see, different surfaces require different tools, techniques, and methods. You don't want to accidentally blast off a bunch of paint or cause more damage handling it yourself!
Having your home professionally washed offers a host of benefits:
destroy moss and fungus growth that can damage your siding
remove pollen build-up that can aggravate allergies
eradicate black mold and bacteria that can adversely affect your health
clean away bird and animal droppings
eliminate rot-causing mildew
Windows
There are many reasons why you should only trust a professional window cleaning service with the windows of your home or business. Pressure washing works by using a lot of finely-focused PSI water power to muscle away dirt, stains, and organic growth from hard surfaces. But more fragile surfaces like windows require special treatment. Inexperienced, amateur and DIY pressure washing attempts can easily crack or shatter your windows! Thus, If the windows of your home are looking dingy or greenish, choosing a professional is a smart move.
Why Use a Professional?
Weather conditions in a specific area are important in pressure washing. That's because different seasonal conditions breed different types of organic growth like molds, mildew, moss, algae, and fungus. Even bird droppings can vary from region to region! Thus, having a local, trained professional is important. Especially in humid environments like Georgia.
When you hire a professional, they will understand the local ecology, the proper techniques for various surfaces, and they will come equipped with the right tools. They will have the heavy-duty equipment necessary to power out deep-seated grime and gunk from dirt-attracting concrete pores. Experienced pros are well versed in the use of biodegradable, eco-friendly cleaning solutions, as well as chemicals to produce the best results on your house, roof, windows, and sidewalks.
Takeaways
If your home or business requires a good cleaning, you should try pressure washing. This process uses high-pressure water to clean surfaces like sidewalks, driveways, and siding. It is an affordable and effective way to remove dirt, grime, and stains from a variety of surfaces. In this blog post, we will discuss the benefits of pressure washing and provide tips for how to get the best results.
Once you're ready to update and beautify your home's exterior, windows, roof, and surrounding walkways, pressure washing is the way to go. And when you use a TrustDALE certified professional, you're always protected by Dale's trademark $10,000 Make-It-Right Guarantee. So start looking for a trusted pressure washing professional in your area today!