7-Point Review Process: Verified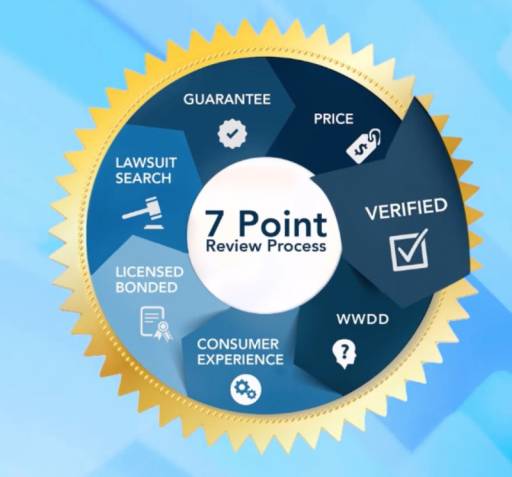 What does it mean to be verified? In a world of fake news and phony accounts, it's hard to know whether anything you see online is real. And that problem is especially apparent in online ratings and reviews.
How Do You Know What's True?
While online ratings are meant to provide a glimpse into a company's customer satisfaction rates, it's hard to tell real reviews from the fake ones. Some products, like electronics, are notorious for their fake reviews.
Companies hire so-called marketers to pump out positive feedback from multiple false user accounts. Some companies encourage their own employees to hop online and favorably review their goods and services, whether or not they have even used them. Some are extra sneaky and slip in a little bit about something trivial they didn't like about the company, just so you don't get suspicious when you see an unlikely streak of 5-star reviews.
Negative reviews are just as suspect. The same dishonest marketers who will take money to write fake positive reviews will happily leave negative feedback about a competitor. So if you've noticed some reviews that seem totally outside the consensus, throwing out horrible accusations and complaints, think twice about whether they are legitimate.
Some sites offer services and products for free to users who will review their items. While it is not explicitly stated, most companies don't provide consumers free products in exchange for bad reviews.
So how do you know what's real?
Real People and Real Experiences
One way to cut through the online tangle of false accounts and fake reviews is to go offline. Talk to real people. It is no surprise that most people trust the review of a single real-world friend over dozens of good or bad anonymous reviews. In fact, many consumers skip the search altogether and just ask their family and friends for services they have used and liked.
Unfortunately, there isn't always a friendly referral for every service you are looking for. And although friends and family are a great place to start your search, there are risks in relying on a single, isolated consumer experience.
That's why TrustDALE verifies.
We talk to real people. We find real-world customers who have worked with a company and get their stories. We ask about the good, the bad, and the ugly. And we do it over and over again, so we can build a profile of a business based on their actual customers.
We also talk to our own friends and family, who often test out some of the companies on our referral lists. Only companies that leave a real-world trail of satisfied customers will get our seal of approval and join the TrustDALE Circle of Excellence.
Continued Verification
Verification doesn't stop when we certify a company and welcome it into the TrustDALE Circle of Excellence. Instead, TrustDALE can measure the satisfaction provided by each business we certify. We calculate how many real-world consumers use our site to find a company, and then measure how often those consumers come back to us to make a claim against that business.
We have many companies who have gone years with TrustDALE without a single complaint. Those are the companies we keep because those are the companies that we have verified and that continually prove themselves.
If you are looking for a business that you can rely on, skip the online ratings. Search for what you need at TrustDALE.com, where you know that companies aren't just reviewed, they're verified.