Preparing Your Air Conditioning System for Spring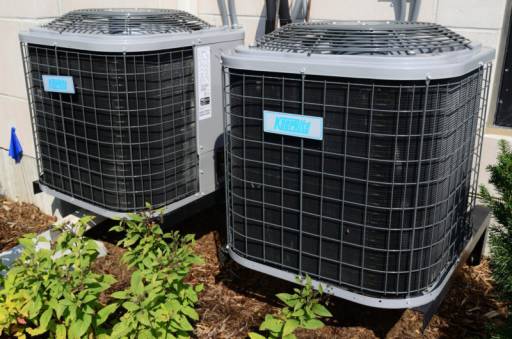 Spring is finally here, and it's time to switch your thermostat from heat to cool. It's an exciting moment, but before you flip that switch, there are a few steps you should take to prepare your air conditioning system for spring.
Changing the Filter
To heat or cool your home, your HVAC system sucks in air from the interior of your home. As the air runs through the system, it is heated or cooled before it is returned to your home. But the air in your home isn't pristine. It carries with it a lot of dirt, pollen, dust, and other particulate matter. To avoid gumming up your HVAC system, your HVAC system has a replaceable filter that cleans the air as it comes in before it is heated or cooled. As air is pulled through the filter, all that dirt, pollen, pet dander, and other junk is deposited on the surface of the filter.
Over time, as contaminants from the air build up on the filter, the filter needs to be replaced. When your filter is dirty, your HVAC system has to work harder to suck air through the filter. That can drive up your energy costs. And when the filter gets too dirty, it can stop functioning altogether. HVAC technicians and manufacturers recommend replacing your filter every two to three months. If you haven't done it in a while, the spring is a great time to visit your HVAC system and replace the filter.
Vacuum Registers and Vents
Your HVAC system circulates air through your home, sucking air in through the registers and pumping out conditioned air through the vents. Both registers and vents can collect lint. Registers are especially bad, due to the pressure of air being sucked in.
Before your start cranking up your air conditioning for spring and summer, take a look at your vents and registers. Take a vacuum to both. You can use your vacuum's crevice tool to get a lot of the dust and lint out. After you have done what you can with a vacuum, give the vents and registers a once-over with a wet cloth. That should get as much dust as possible off of them.
If they look really bad and you can't get them clean, most register and vent covers can easily be unscrewed. Use a screwdriver to remove the covers so you can clean them from all sides. You can even bring the loose covers to your sink or bathtub for a thorough cleaning. Make sure that the vent or register covers completely dry before replacing them to avoid mold or picking up more dirt.
Clean and Clear Your Compressor
Your compressor is both the most important and the least visible part of your air conditioning system. The compressor is that large box outside your home with a fan on top and a metal grille covering at least part of it. It's the part of your HVAC system that actually cools the air.
As the compressor cools the air, it pulls the heat out of the air in your home and pumps it out into the air around it. To do that effectively, your compressor needs to be open to the air with no debris, bushes, or other blockages. It is best to keep two feet clear all around the compressor. The compressor itself, especially the grille, should be clean and free of any obstruction.
As spring begins, the chances are that you haven't thought about your compressor in a while. Now is a good time to pay it a visit and give it a little TLC. Clean around it and cut back any bushes that may be blocking airflow around the unit.
When's the Last Time You Had Your Ducts Cleaned
Air travels throughout your home in ducts before it reaches the vents in every room. As it does, it picks up whatever is in those ducts. And you would be surprised what may be in there. Over time, everything from dust to pollen to germs and even mold can build up in your ducts. The worst part is that the inside of your ducts is completely invisible to the average homeowner.
It is not necessary to clean your ducts every spring, but this is a good time to think about when you last had them cleaned. Most HVAC technicians recommend cleaning your ducts every 5-7 years. If you can't remember the last time your ducts were cleaned, now is a good time to do it. You can contact a TrustDALE certified duct cleaning company to inquire about duct cleaning.
Have Your HVAC System Serviced
One of the most significant things you can do to keep your HVAC system efficiently functioning for years to come is getting regular service. Don't wait until your air conditioning breaks down in the middle of a heatwave to contact a TrustDALE certified HVAC company. Instead, call now to arrange your seasonal maintenance appointment. Seasonal maintenance includes cleaning the unit, checking it for potential problems, and performing routine maintenance tasks.
If you're ready to crank up the cool this spring, take a moment to contact a TrustDALE certified HVAC company first. You'll be glad you did.