The Right Way To Upgrade Your Shower Doors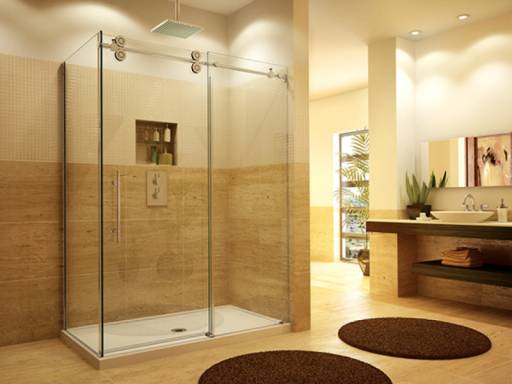 Shower doors not only add a touch of class and sophistication to any bathroom, but are a quick and easy way to give an outdated bathroom a small, yet effective face lift before beginning a much larger renovation.
Of course, like any home renovation or upgrade, installing shower doors yourself can be a lengthy process which, if not done correctly, could end up making your bathroom appear worse than before. This is why hiring a professional is a smart decision for any homeowner and ensures your bathroom will wow your family and guests for years to come.
Here's where you should start:
Find a Shower Door Company That Specializes in Glass

Ensuring you install the best shower door when it comes to quality in your bathroom, you should start with a local shower door company that specializes in glass.
Shower Glass DreamWorks LLC -- of Lawrenceville, Georgia -- provides the highest quality storefront windows, mirrors, glass replacement and (of course) shower doors to fit any home or residential project. This is why their the most qualified company to go to for all of your shower door needs.
Frameless Shower Doors Add Class to Any Bathroom

Shower Glass DreamWorks LLC specializes in frameless shower doors, which in contrast to the average shower door, add another level of sophistication and a true focal point to any bathroom remodel.
Customize your bathroom even further with custom shower doors from Shower Glass DreamWorks LLC, which include etched doors that can display any custom pattern to fit your style or preference. For example, if you're looking to bring in a more tropical theme to your master bath, shower doors etched with dolphins or palm trees is the perfect way to bring your vision to fruition.
Quality Shower Doors For Affordable Prices

Beyond their free estimates and military discounts, Shower Glass DreamWorks LLC gives their customers the best price possible for all of their glass replacement and/or installation needs.
This includes glass repair, which means if you have damage to any existing shower doors (or any other glass items, including glass tables, store front windows etc.) Shower Glass DreamWorks LLC will always give you the best price on the market to make necessary fixes in order to return your glass items to their former glory.
Exclusive TrustDALE Deal For Shower Glass DreamWorks LLC

In addition to utlizing Shower Glass DreamWorks' existing discounts, by becoming a new customer through TrustDALE.com you will receive 10% off your first purchase.
Dale trusts Shower Glass DreamWorks LLC to provide exceptional service for all of your glass and shower door needs! Visit Shower Glass DreamWorks LLC on TrustDALE.com to learn more.