RV Burglary: It Could Happen to You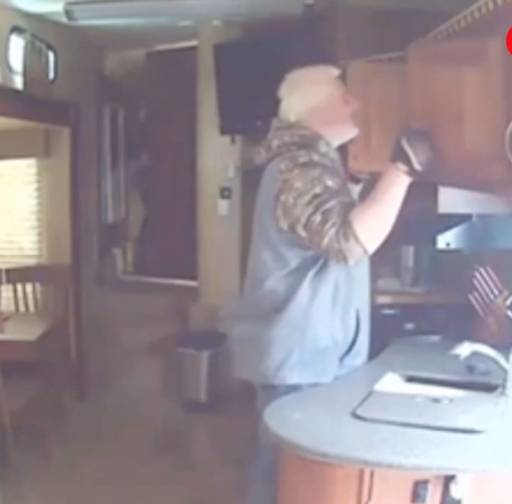 RV's are a great way to camp out without leaving behind all of the comforts of home. You can spend time in nature during the day, but at night you can come back to a real bed, a kitchen, a toilet, and that all-important air conditioning or heat. Many RV owners leave their RVs in parks, often far from home. So when an RV is robbed, the owners may not know for weeks or even months. Unless you are like Dominick and Pamela Burton. They installed motion-activated cameras in their RV, and what they saw shocked them.
A Boldfaced Burglary
Damonick and Pamela needed to fix a broken water heater on their RV. The RV was parked at a camp in North Georgia, so they needed someone who could access the RV remotely to do the work. Luckily, the work could be done from outside the RV. The repairmen wouldn't even need to get into the RV. That's why the Burtons were so surprised when they got a message on their phones that the motion sensing security camera had been triggered.
What the Burtons saw on their camera was absolutely shocking. Two repairmen who had been dispatched to fix the boiler were going way beyond their job description. The two men entered the RV (which they knew was vacant) and were calmly searching every nook and cranny for anything they could steal. Dominick hit the record button on his security camera, and the whole burglary was caught on tape.
The thieves went through everything in the RV. They opened every drawer, checked under the mattresses, and even opened up the oven! The Burtons weren't just angry at the theft. They felt personally violated.
The Thieves Are Caught
Thanks to Dominick and Pamela's high-quality video recording, and the fact that they knew who the repair company had sent to do the work, it didn't take long to identify the criminals. Before long, the two men were arrested. But they were allowed out almost as soon as they were in, presumably while they awaited trial.
But here's the crazy part: They went right back to work. Their boss knew about the arrest and the charges, but let them get right back on the job, accessing dozens of vacant RVs. When TrustDALE learned of this, we were amazed that anyone would put a suspected thief back into service on vacant RVs. So we paid the company a visit.
Mountain RV Explains Themselves
The company that these thieves worked for is Mountain RV. We couldn't understand why these men were allowed to continue working, so we figured we would ask them in person. When we did, the answer was not what we expected.
The thieves' boss knew that they had been arrested and he knew that they had been accused of stealing items from an RV they were working on. So why didn't he do anything? He claims that until they are proven guilty, he can't—or doesn't want to—do anything about it. When we asked whether he had considered suspending them until the case moved forward, he explained that he had written them up. And then he sent them right back into people's RVs.
We weren't going to let Mountain RV go that easily. We asked if they had run a background ey certainly check on their employees. Not surprisingly, they had not. So we did. It turns out that at least one of these men had already had quite a few run-ins with the law. But now, due to Mountain RVs lax policies, these men had access to possibly hundreds of vacant RVs.
We went to some local RV parks and showed the staff a picture of these men. Some of the staff recognized them from work they had done in the past. We're glad we got the opportunity to warn RV park staff about these two shady individuals.
Avoid Becoming a Victim
If you need to hire a company to do work while you are away, don't be too hasty. Do your research. Of course, your best option is to use a TrustDALE certified business that has already been through a rigorous investigation process.
Don't confuse a referral with an endorsement. A local RV park, a co-worker, or even a friend might be able to give you information about where you can find someone who does what you need. But unless you specifically ask, you have no idea whether the person you're talking to has ever used the company and whether they are an honest, reliable, high-quality business to work with.
Keep your valuables locked up. If a criminal does get into your RV, keeping things locked adds an extra layer of protection.
In some situations, one of two motion-triggered security cameras can be a great help. They certainly helped out the Burtons.
To find local service professionals you can trust, check out the latest edition of our TrustDALE Certified Services Guide.